A Special Welcome to Our International Participants
ENKWSA brings the world of footwear and accessories together in an exciting presentation of new styles, designs and trends. As the industry's largest leading international marketplace, this is one event you can't afford to miss.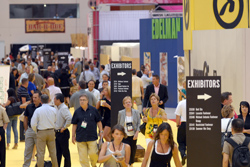 For more information about On-site Marketing opportunities, please contact  Lisa Heitner at [email protected] or call at +1.818.379.9400. 
ENKWSA—Gateway to the U.S. $50.7 Billion Marketplace.
Exhibitors at ENKWSA have access to the largest concentration of buying power in the global footwear and accessories marketplace. No other event gives you a more effective opportunity to build brand awareness, meet with major U.S. buyers, find U.S. distribution and representation, establish important alliances and increase sales in the United States.

ENKWSA attendees represent the most important footwear and accessories buyers in the U.S. from every distribution channel.
Maximum brand awareness alongside the world's leading manufacturers and designers.
Valuable networking opportunities on the show floor, and at special events.
Brand and traffic-building on-site marketing opportunities available.
A world-class selling environment that delivers excellent return on your investment.
Attract media attention from fashion and consumer press.