Important Connections. Qualified Buyers. International Exposure
Click here to request a contract   
Just what you need to expand your markets and market share.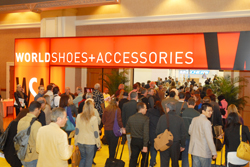 Simply stated, WSA is a marketing must. A strategic necessity. A sales essential. No other event gives you just what you need to build your brand, launch new lines and land new accounts. Invest three days in the industry's most important selling event and discover what your competition already knows: serious buyers with serious budgets are here.
WSA delivers the largest concentration of buying power in the global footwear and accessories industry.
WSA attendees represent the most important footwear and accessories buyers in the world.
If you are serious about success in the world of footwear and accessories, reserve your space today.