Welcome to the Global Footwear & Accessories Marketplace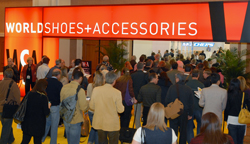 WSA is the most comprehensive footwear and accessories show in the world. The twice-yearly event gathers exhibitors showcasing, thousands of brands, attracting category leaders, industry newsmakers, top designers, as well as retailers from every market segment, retail and distribution channel.

Considered throughout the global footwear industry (U.S. $54 billion, European $51 billion, Asia-Pacific $32 billion) as the premier marketplace and trade event. WSA is the international showcase of new products and brand launches, where trends are set, styles are shaped and markets are made every season. For more information please email [email protected].
QUICK FACTS:

Years in existence: 62

Year established: 1948