Trends Spotted Here. Images Made Here. Styles Shaped Here
Buyers New to WSA: Click here 
This easy-to-shop, not-to-be-missed market is overflowing with product, ideas and inspiration that will keep you in step with the trends and in tune with your customers. Buyers who attend WSA see an unrivaled and expansive display of forward and in-stock product, do business with leading global brands and come away with an insider's view of the market, as well as a clear competitive advantage. Be there in Las Vegas. Be where the market is made.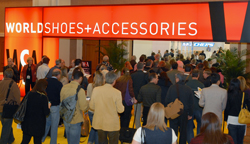 Shop the largest gathering of footwear and accessories in the world. Manufacturers, designers and distributors from every category.
Discover the must-have new styles early—at the first and most comprehensive global fair of the season. Find all the hottest trends and products that will dominate your markets and drive your sales.
Concentrate on the brands and styles you really want to see. Every price point, every market segment and every product category—organized in easy-to-navigate show sections.
Be Educated. Buy smarter, merchandise better and sell more. Attend WSA Seminars for a rare opportunity to learn from industry experts. Get an insider-only look into fashion and consumer trends, planning, buying, merchandising, marketing and selling.
Make important connections, learn from industry professionals and preview new products.

Pre-Register for the show as a New Buyer.  
Make vendor appointments in advance with companies you want to see.
Map out your itinerary with the myWSA Exhibitor Search online planning tool. http://www.wsashow.com/attendee_information/mywsa_exhibitor_search  
Come prepared to introduce yourself to prospective vendors by bringing copies of your business plan, pictures on your store, advertisements, logo, etc.
Attend the complimentary Step-by-Step Orientation for Buyers New to WSA, hosted by our Global Retail Relations Team.  Register online to attend opening morning of the show. http://wsashow.com/homepage/conferences                           
Sign up online for informative educational seminars conducted by industry experts at WSA Seminars. http://www.wsashow.com/homepage/conferences
Plan airline and hotel reservations through the WSA Travel Desk before January 3, 2011, to ensure the best rates and travel packages and do not forget to check out WSA Show Stoppers program offering you discounts on travel, food and entertainment. http://www.wsashow.com/homepage/hotel_and_travel
Wear comfortable shoes!
While at the Show, pre-register for the July 2011 show before you leave Las Vegas at the myWSA kiosks located on-site.

Contact our global retail relations team at

[email protected]

if you have any questions or need help.
See you in Las Vegas!