A Special Welcome to Our International Participants
ENKWSA brings the world of footwear and accessories together in an exciting presentation of new styles, designs and trends. As the industry's leading international marketplace, this is one event you can't afford to miss.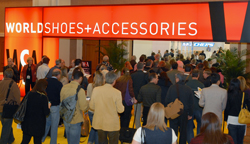 At ENKWSA, attendees have direct access to the global brands that drive footwear business worldwide. Here you'll find the hottest trends and international brands that are leading the fashion-forward marketplace and new resources that can help your business stand out. Meet face-to-face with global and U.S. manufacturers, distributors and designers ready to do business with you.

Join the retailers who travel to Las Vegas to take advantage of the benefits only the largest gathering of footwear and accessories in the world can provide. Click here to register online!

Thousands of brands and exhibiting companies
Thousands of new product introductions
Every price category and market segment represented
New collections, new inspiration, new product introductions