See the new products and brands you need to see.
Make the connections you need to make.
Exhibitor Search - August 2009 (Coming Soon)
Exhibitor Search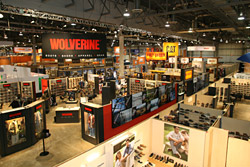 - February 2009
The WSA Show Exhibitor Search - Click Here
The Collections at WSA Exhibitor Search -
Click Here
While you are welcome to shop many exhibitor's booths and suites, some require appointments.  Please plan ahead and check with those companies that are "must sees" on your list.  This myWSA tool is designed to:
Organize your show plan. Find the products, brands and exhibitors on your "must-see" list.
Save time with your personalized itinerary—organized in alphabetical order or by booth number.
See just what you need to see at the show easily and efficiently.
Now that you've made your "must-see" list you're ready to get started! Follow these simple steps:
Search for your desired product category or company.
Check the box for the product or company
Add to your myWSA itinerary and sort by alphabetical order or booth number
Print!
Don't forget to make appointments in advance.
Most exhibitors at The WSA Show require appointments in advance, so be sure to set those up as soon as possible. Contact names and phone numbers are provided with each exhibitor listing.

Floor Plans
Floor Plan (pdf)

(Coming Soon)