Pre-Registration for the August 2004 WSA Show is now closed.
Editorial media can register on-site at one of two WSA Media Centers. Advertising representatives must register as a "Supplier" in the general registration areas. The Media Centers are located in "Ballroom J" at Mandalay Bay's Convention Center and in Room 201 at the Sands Expo. Please check signage at the show for the exact locations.
The Media Centers will be open August 4-8, 2004. The times are: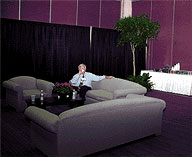 Wednesday, August 4, 2004 - 10 a.m. to 6 p.m.

Thursday, August 5, 2004 - 7:30 a.m. to 6 p.m.

Friday, August 6, 2004 - 8 a.m. to 6 p.m.

Saturday, August 7, 2004 - 8 a.m. to 6 p.m.

Sunday, August 8, 2004 - 8 a.m. to 4 p.m.
To help expedite registration, please bring press credentials or documentation to verify that you are editorial media.
For those who have pre-registered, you can pick up your badge in the WSA Media Center.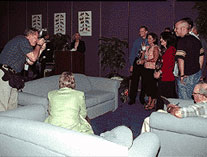 The Media Centers will include:
A computer area to write stories and check email;
A casual "intermission" place for you to take a break from walking the show;
An area for you to conduct interviews with exhibitors and WSA officials; and
A place to obtain exhibitor press kits.
Have a safe trip to Las Vegas. We look forward to seeing you there.
For additional press information, please contact Amy Goldsmith at (310) 440-0646 or Mark Grody at (760) 674-8012.