EXHIBITOR REGISTRATION FORM:
The Pre-Registration deadline is June 1, 2004
Badges are mailed to exhibitors approximately three weeks before the show.
Members
Badges are mailed to your membership address. You may register by one of the following options:
List your name on the exhibit application submitted by your company.
If your company completes the application and does not include your name for registration, you may register online with our Exhibitor Pre-Registration form. If you prefer, you may also download the form and mail or fax it to WSA.
Note: You do not automatically receive a badge by being a WSA member.
Click here to update your membership information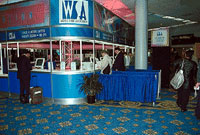 Executives & Company Personnel
Please add your name to the badge list included with your company's exhibit contract or register online by submitting a list of your names (including titles for each attendee) on the Exhibitor Pre-Registration Form. Badges will be mailed to the company address as provided on the exhibit contract.
On-Site Registration
After the deadline date of June 1, 2004 you may register on-site with proper business credentials. Please refer to our Show Dates & Times for on-site registration times.