BUYER REGISTRATION FORM:
Are you already registered? You are if you...
Received your show badge by mail for the last market and returned your badge stub at the show for registration for the upcoming show.
You were a first time attendee to the last show.
The Pre-Registration deadline is June 15, 2004
Pre-Registered Attendees
You will receive your badge in the mail approximately 3 to 5 weeks prior to the show. Upon arrival, present your badge at the "badge holder pick-up station" in the main lobby at one of the venues to receive a badge holder.
Be sure to deposit your badge stub at the designated station in the Convention Center lobbies in order to register for the following show.
Additional Badges
Final deadline for submitting badge requests is June 15, 2004. After the deadline date, all other badges must be processed on-site. Buyer's credentials will be required.
Forgot to Pre-Register?
Registration requests and corrections for International Badges received after the deadline of June 15, 2004 will be processed and available for pick-up on-site at the WSA "Will Call" counter.
Badge Corrections
In the event of an error on your badge(s), fax corrections to 949-475-1765 or e-mail [email protected].
Amenities
As a registered attendee, you will receive many amenities, compliments of WSA, while at the show. Click here for a list of amenities!
Meeting Rooms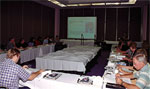 Available for both exhibitors and buyers, the show meeting rooms may be used for seminars, company meetings or hospitality functions. Meeting room space is always at a premium and is scheduled on a first-come basis. For cost and current availability of meeting rooms please email [email protected] or contact the WSA office at 949-851-8451.

Please note: The WSA Show is closed to the public and to non-exhibiting manufacturers. All attendees must provide appropriate business credentials.