REGISTRATION FAQs
Frequently Asked Questions About WSA Registration
Q: Why should I register for WSA?
A: The WSA Show is the show for footwear and accessory professionals. It's a must-attend event for all the major players in the footwear industry. At WSA you'll find the best selection of footwear and accessory manufacturers ever assembled. You'll have the unique opportunity to check out all the new lines from major brands, network with fellow footwear industry professionals -- and have a great time in Las Vegas in the process! Plus, registration is free, so there's no reason not to sign up today.
Q: When should I register for WSA?
A: The sooner you register, the better. Pre-registered attendees avoid long lines at the show, because we send all planning materials -- including show floor plan, badge, exhibitor lists and informative show planners -- well ahead of the actual event. This gives you the opportunity to review the exhibitor list, locate manufacturers you want to see and plan your time accordingly. Registering early is the best way to make the most of your WSA experience.
Q: Can I bring my friends or family to WSA?
A: The WSA Show is a footwear industry trade event, and not open to the general public. Two forms of proper business credentials are required for entry into the show. So if your friends or family are footwear professionals, by all means, bring them with you! However, if they are not associated with the industry, we are unable to allow them access to the show floor. There are absolutely no children under the age of 16 allowed on the show floor.
Non-employee spouses or family members above the age of 16 accompanying a qualified buyer can obtain a Guest badge but cannot pre-register. They must register on-site. At on-site registration, both the Guest as well as the qualified buyer must show ID indicating that they live at the same address.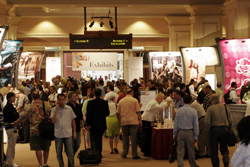 Q: I missed the deadline to pre-register. What now?
A: Don't worry! Just because you missed the pre-registration deadline, doesn't mean your time at WSA won't be a complete success! Registration requests and corrections for badges received after the pre-registration deadline will be processed and available for pick-up onsite, at our conveniently located WSA Registration Counter. Show materials such as floor plans, planners and directories will also be available at the show, so you can start planning your weekend the moment you arrive!