WELCOME EXHIBITORS!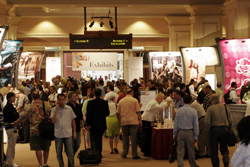 Celebrating 56 years, the WSA hosts two premier footwear events annually serving the $47 billion footwear market the world's largest. Each event attracts over 1,600 exhibitors representing 6,000 brands and 34,000+ industry professionals and buyers from department stores, specialty retailers, footwear chains, independent footwear retailers and boutiques across the globe.
73% of buyers report adding new lines or resources as a result of attending the WSA events.
Exhibitors and buyers alike attend each WSA Show to preview the season's newest lines in footwear, handbags and related accessories and designs- first. Hosted months ahead of the season, the WSA events are the only place to see the full range of US and Global brands all in one place and ahead of the rest. This is why 73% of buyers report adding new lines or resources as a result of attending the WSA events. Reserve your booth space today and have the world's attention.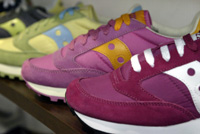 Let WSA open the door to the footwear and accessories market!
Expand your market by targeting your brand and lines to footwear and accessories buyers.
Establish partnerships and network to help you build your global business.
Meet key buyers face-to-face, develop relationships and leave a lasting impression.
Get products in front of a wide spectrum of retailers, from large department store buyers to small boutique owners (and beyond!).
Maximize your prestige by exhibiting alongside the most renowned manufacturers and designers in the world!
Exhibitors from all categories join the largest footwear trade show in the americas - to reach key buyers.
Join 6,000 brands from around the world by exhibiting at the WSA Show. Our buyers search for high end to high volume, all categories of shoes, purses, belts and accessories. If you come from these categories, feature your full line of footwear, accessories and care products and reach a global buyer audience all in one place, at the WSA Show.
Contemporary and Better Womens
Luxury Brands
Young Womens
Juniors
International Pavilions
Handbags and Accessories
Childrens
Comfort
Exotic
Young Mens
Mens
Athletic
Rugged
Volume
Jobbers
First Cost
Footcare/Shoecare
Technology/Software Who should exhibit?
Footwear manufacturers
Leather goods producers
Footcare products companies
Belts, leather and handbag manufacturers
Athletic and apparel suppliers
Point-of-purchase merchandisers
Accessories vendors
Jewelry suppliers
Socks, stockings and slipper manufacturers
Retail operations solutions
Fixtures and equipment suppliers
Jobbers
Click here for the exhibit contract!