ADVERTISING/SPONSORSHIPS/ON-SITE MARKETING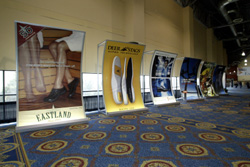 Advertising and Sponsorships Expand Your Scope Of Impact
Securing your booth space is only the first step to success. Next, it's important to consider how you'll draw the most traffic to your booth, so your products are exposed to the widest possible audience. According to a recent report from the Center for Exhibition Industry Research (CEIR), show sponsorships increase booth traffic by 104%! Bolster the return on your show investment and reach valuable WSA buyers before, during and after the show.
WSA Show Daily
Hospitality Sponsorships
Visibility Sponsorships
Billboards, Banners & Signage Sponsorships
On-Site Advertising & Ancillary Products
The Collections at WSA On-Site Advertising
Download the 2006 Sponsorship Brochure (PDF).
If you experience problems opening this file, please 1. Right click on the link above 2. Choose "save target as" on the menu 3. Save the file to your desktop
WSA to Publish Its Own Show Dailies
The WSA is producing its own official WSA Show Dailies! The Show Dailies will be the only publications distributed on shuttle buses to the show, in the show lobby, throughout the show floor and in seminar rooms.
As an exhibitor, you have the opportunity to tell everyone at the show what's happening at your company by advertising in the pages of WSA Today. Details are coming soon.