Porter Service at the WSA Show
WSA continues this service exclusively for its regular members exhibiting at the WSA footwear show at the Mandalay Bay Convention Center and Sands Expo. WSA will provide porter service* (for product arriving from or returning to privately-owned vehicles) at no charge to its members. This cost is paid for by the association and provides substantial savings to WSA member sales representatives.
Simply present your membership card at the Porter Service Check-in, located at the WSA Marshalling Yard, Thomas & Mack Center. For further information please call WSA at (949) 851-8451.
Porter Service Location
Porter Service is for exhibitors in personal passenger vehicles with products only (no display materials).
You must go to the Marshalling Yard for check-in and instructions prior to delivering your samples to the Sands Receiving Dock. Please DO NOT bring your vehicle directly to the Convention Centers!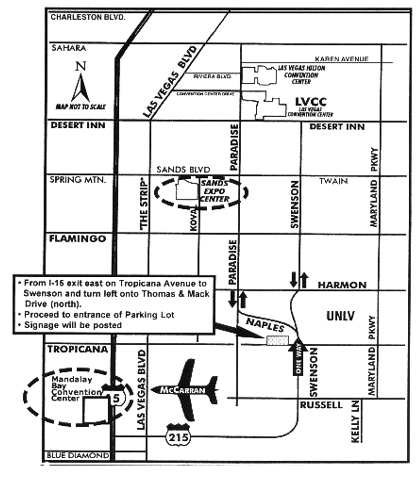 *Complimentary for one cart load in or out only