Internet Access
World Shoe Association, in cooperation with Tradeshow Multimedia Inc., delivers to the attendees of The WSA Footwear Show, a high-tech, user friendly environment of computers and Internet access.
WSA attendees have the ability, while in Las Vegas, to access their personal email, reply and send email, access the Internet, search for exhibitors at the show, view floor plans to design their personal itineraries, search for available jobs and much more!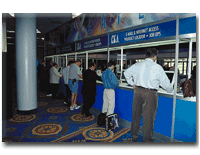 Attendees receive a temporary email account while at the show to use for sending and receiving email from other attendees, have their office forward email to this account for easy access, and send email to exhibitors to schedule appointments and more.
The Trade Show Planner allows individuals to create personal itineraries, search exhibit and session databases and build personal floor plans of the exhibit hall. To manage time while visiting the show, you can search for exhibitors using the web-based Product Locator. Using the Product Locator, you can search by product category and keywords and view product descriptions. Those exhibitor booths you wish to visit you may add to your Personal Planner.
Attendees may also explore our job postings in the the WSA Job Guide. Search the list of current positions open in the Industry for sales professionals. Exhibitors wishing to post available openings within their company may do so with our online job posting form.