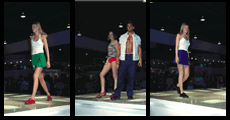 Spring 2002 is season of dramatic contrasts. Moulin Rouge black lace corsets contrast with Spaghetti Western torn and frayed denim. Rhine stoned evening slippers are contrasted with rubber flip-flops. Rough, hewn wooden platform bottoms contrast with techno soles. And color choices combine the dark with the light, as evidenced by the dramatic black & white and the Americana red/white/blue.


With the exception of the increasingly popular athleisure shoes, virtually the only silhouette this season worth mentioning is the sandal. Open toes
and wedged slings are back with a vengeance and run the gamut from the 40's draped-front slide, to an ankle wrapped gladiator. Sandals are adorned and embellished with flowers, stitched center seams, filmy butterflies, stripes and stars.